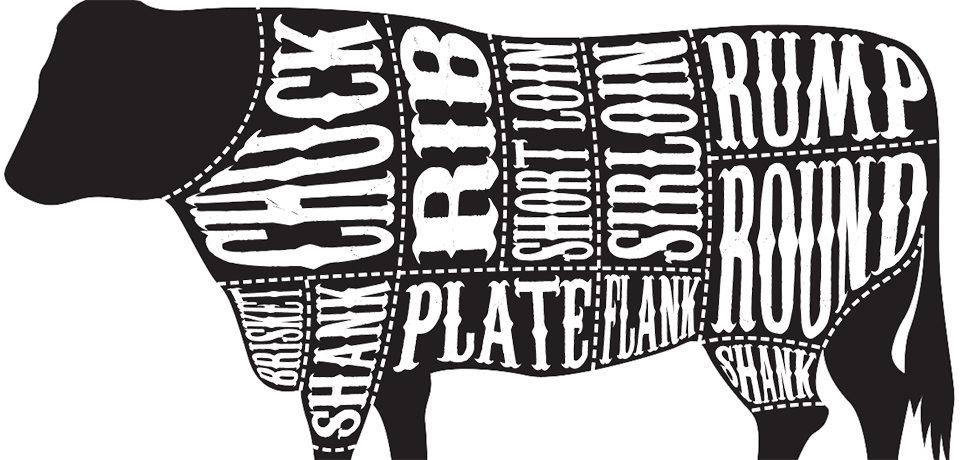 Currently accepting Pre-Orders for beef scheduled at the processor on: November 29th.
A $50 deposit per 1/8th share is required to hold your order, and the balance will be due after the final weight and processing is calculated. Prices are based on $3.25/lb. beef rail-weight, plus $1.25/lb. in processing fees. If that sounds unfamiliar, see the info at the bottom of this page for the primer on how farm-direct beef shares work. It's a different mode of buying meat than supermarket-style, but it's the most economical and sustainable way to buy meat.
1/8th Standard Beef Share – $50 deposit, estimated final total cost $365 – CLICK HERE to reserve yours now.
Will include approx. 17lbs ground beef, 6lbs of premium steaks (ribeye, strip, and t-bone), 6lbs of common steaks (sirloin, and skirt, or swiss), 13lbs of common roasts (chuck, arm, and sirloin), 3lbs of stew meat and/or short ribs.
Final invoice will vary +/- $40 based on actual rail-weight of the beef at time of processing.
1/2 Beef, Customize your Cuts – $200 deposit, estimated final total cost $1450 – CONTACT US to reserve yours now.
When you get a full half, you can call the butcher and give your own precise instructions about cutting, grinding, and even curing (sausages) as desired.
You will have two separate bills, one to our farm for the animal, and one for the butcher directly for your custom processing.
Final invoice will vary +/- $160 based on actual rail-weight of the beef at time of processing.
Below are some commonly-asked questions for you. If you have any others, don't hesitate to contact me.
---
How does buying beef shares work?
If you have never bought freezer beef straight from the farm, here's a quick primer on how farm-direct beef shares:
You buy a fraction of the cow (a half, a quarter, or an eighth) and you pay the farmer for the animal based on it's rail-weight, and the butcher for the processing. That means your total bill can vary based on the final weight of the animal, typically ranging from 625 to 675lbs
You get to experience "tongue-to-tail" eating. You will get your fraction of everything a beef cow yields, which includes the commonly-known cuts like steak and ground beef, but there are also roasts and soup bones, too.
The beef will hang to age (for flavor and tenderness) at the butcher for at least 10 days, then they will package it and freeze it at it's peak of freshness. We will arrange a date when you can pick up the beef at our farm.
A ½ a beef will rail-weight at about 325lbs, and after the unusable bone and grissel is trimmed, you will have closer to 200lbs of meat. So, a quarter would be about 100, and an eighth more like 50. These are estimates, of course. But, it's a lot of meat, so you'll need a chest freezer to store it all. If you're not accustomed to buying food in bulk, please be sure you have enough freezer space to store this, as we don't have the ability to inventory any meat.
How is the beef raised?
This is pasture-raised beef, which means that their primary diet is foraged greens (grass, clover, and alfalfa hay in the winter). They are given a supplemental diet of non-GMO corn that is also raised and harvested on our farm. The little bit of corn helps with marbling and flavor. The beef are never given any antibiotic or hormone regimens.